KARVIL Carbon steel ribbon blender are ready to go to Namibia
Views: 10 Author: Site Editor Publish Time: 2021-04-15 Origin: Site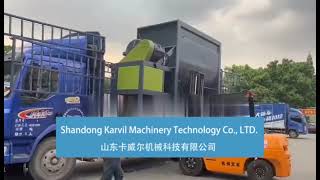 Shandong Karvil Machinery Technology Co., Ltd.
The ribbon blender, let's go!

Heartly congratulation to our customer on the succesful purchase of soil fertilizer horizontal ribbon blender!
The generally used in the mixing of viscous or adhsive powder material, or the mixing of powder which needs to add liquid, and paste material.
Widely used in chemical industry, mdeicine, compound fertilizer, dyes, pigments, rubber, building materials, food, milk powder, health products, feed, additives, aquaculture, biological engineering, fine chemical industry, ceramica, refractory materials, rare earth, plastic glass, new material, nuclear materials and other industries.
Note: mixer selection is a very important step, your detailed material information, processing and factory arrangement are very helpful to get professional technical support from us.
Welcome new and old friends cooperate with us, to accomplish the purpose that develop and create future resplendence!